Urmia Lake and Gurigol Lagoon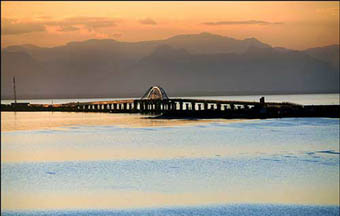 Location and Specifications of Urmia Lake Basin
This area is one of the country's six major basins with an area of 51 801 square kilometers which is spread in northwestern of Iran. The mentioned basin is an introversion type which is drained by 16 rivers including Aji Chay*, Azarshahr chay, Qaleh chay, Soofi chay, Leylan chay, Mordaq chay, Zarrineh River, Smineh River, Gardar chay, Mahabad Chay, Barandooz chay, Shahr chay, Nazlou chay, Rozeh chay, Zola chay, and Daryan chay(* Chay means River). The basin was used for different necessary cases and the remainder discharges into Urmia Lake
44% of its area is located in East Azarbaijan province , 46% in West Azarbaijan Province, and 10% is located in Kurdistan province that included 25 study area. Its long-term average rainfall is 19.2 billion cubic meters and potential surface and groundwater are 6.5 and 5.1 billion cubic meters, respectively from which 1.31 and 1.47 billion cubic meters respectively are the shares of East Azarbaijan province from the potentials.

Location and Specifications of Gurigol Lagoon Basin


Gurigol Lagoon is located in the basin of Urmia Lake and study area of Tabriz. The wetland is located, with an area of 37 square kilometers, in the South East of Tabriz city. According to the lagoon bathymetry done at the level of 1913 meters above sea level, it has an area equivalent to 8.1 square kilometers and an average depth of two meters.

In order to assess the status of water resources in the area, measurement network system has been installed and exploited that continuous inventory (daily and monthly) is conducted from which.

1. Installation of scale on the lagoon to assess the fluctuations of water level.

2. Installation of evaporimeter to measure meteorological parameters.

3. Installation of scale on the transmission channel to measure the volume of transmitted water.

4. Drilling of 11 piezometric wells to assess the fluctuations in groundwater level.